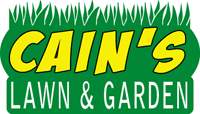 Our full service landscape maintenance program includes:


Weekly maintenance which consists of mowing, trimming, spot weed control in turf, beds and paved areas.


Shrub and ground cover touch ups.


Bi-weekly edging of drives, sidewalks.


Turf fertilization 4 times per season.


Pre and post emergent weed control in turf, beds and paved areas.


Shrub, small tree and groundcover trimming and pruning.


Landscape bed and tree ring edging


Shrub fertilization.


Spring and fall cleanups.


Regular inspections for insect and disease problems.


Seasonal flower change outs.



Core aeration.
---
Commercial properties:

retail malls, restaurants business parks etc. We offer an eight-month program or we can tailor a program to meet your specific needs.

By using the services of

Cain's Lawn & Garden,

you are providing your property with more than a basic maintenance program. You are assigned a team of experienced, dedicated, landscape professionals

Please contact us by phone, fax, or email so we can show you how the right landscape maintenance company can make a difference for you.

Copyright 2011 Cain's Lawn & Garden. All rights reserved.

Call today for a
Free Estimate
(360) 312-9524
or (360) 927-4418

Call for Service Today! 360-312-9524 or 360-927-4418

Serving Bellingham,
Whatcom
& Skagit
Counties